Sultry Superheroines Series
Our Videos featuring sexy superheroines.
Episode Title
Click on the Logos below to see a larger version of the Preview Photos!
Episode Details
Price and Logo

Starring Emma G.
Wondra has joined the Seventh Sanctum. What hold do they have over her that makes her commit treason to further their cause? Emma G. puts in another spectacular performance as Wondra, the modern Amazon warrior and heroine, but is even her power enough to defeat the secret machinations of an evil genius? This is the conclusion of the Master Mace story arc! Wondra has been captured and brainwashed by Master Mace. The amazon, however, proves too powerful to be controlled by any man! This is Episode 8 of Sultry Superheroines, Season 1.
Check out the Trailer!


Starring Ella Arcana
Bountyhuntress is the Bluestone version of The Huntress, and is played by the lovely Ella Arcana! In this first episode, her mafia family connections bring her into conflict with a sexy rival. The two opponents fight to the death! Bountyhuntress wins the fight by snapping the neck of her beautiful opponent after ripping her opponent's top to reveal her lovely breasts. Yes, Bountyhuntress is a heroine who, unlike Supernova, does not shy away from killing an opponent. For this very reason alone, she is one of the darker heroines in the Bluestone Superheroine universe! Although, Bountyhuntress wins the fight, it looks like her opponent had set a trap, as the chamber is sprayed with gas, defeating our beautiful victor!
Starring TeeJay!
Although this is Episode #3 of the Supernova series, it does not actually feature Supernova. Instead it introduces her unofficial, non-powered sidekick... Superkick! Superkick is a very human vigilante who tries to make a difference, but comes up against criminals who are out of her league, though she fights valiantly. One of the villains is a sexy blonde who also gets involved to give us some girl vs. girl action! TeeJay makes for a very sexy heroine in this introduction of the first sidekick to debut in the Bluestone Superheroine Universe.
Check out the Trailer!


Starring Yvonne!
This is the first part of a two-part crossover, that leads into the first meeting of Darkwing and Supernova. In this part, Darkwing is captured and her secret identity is about to be exposed on live TV. Supernova has announced that she is going to bring the vigilante, Darkwing, to justice, but they don't actually meet in this episode. This is Episode 14 of Sultry Superheroines, Season 1.
Check out the Trailer!


Starring Danica Thrall and Yvonne!
Supernova is back and means to put an end to Darkwing's vigilante actions by bringing her in. In Part 2 of this story arc, which began in "Darkwing 4: Hunted by Supernova", Supernova and Darkwing take care of the criminals who had captured Darkwing, but then face off against one another. Who will win this battle of the heroines? Only one way to find out. This is Episode 15 of Sultry Superheroines, Season 1.
Check out the Trailer!


Starring Danica Thrall
White Angels are super spies who have been enhanced with a secret formula that gives them added strength and stamina, but also gives them the power to regenerate from what would otherwise be fatal wounds. Since this series takes place in a different universe than the other Sultry Superheroines featured here, Danica Thrall and other of our actresses are able to play White Angels. Danica plays a White Angel Agent known as Natasha Reese. This is her first adventure where she takes on the super-powered Agent X, an assassin employed by the mysterious organization known only as Remo! Danica is hot, hot, hot as she engages in a brutal fistfight with Agent X. Not only does she lose the fight after a beatdown, and bearhug back break, but she is then zip-tied to a chair and viciously garroted! She is brutalized and tortured, but Agent X finds that White Angels are extremely hard to kill! (Note: If you're wondering why we're starting the White Angel series with Number 6, it's because there are no Peril versions of Numbers 1-5, only Extreme versions, that are available under the "Sexy Spies" banner, but not under this "Sultry Superheroines" banner!)
Check out the Trailer!


Starring Danica Thrall
White Angel Agent Natasha Reese (Danica Thrall) returns, and this time takes on a female Remo agent who matches her blow for blow! Another sexy catfight in this super spy video, but Claire's character manages to beat Natasha down, and there is much much more! After Natasha loses the fist fight, her opponent chloroforms her. When Natasha revives, she is beaten down again and strangled to death. Finally, when Natasha begins to revive once more, the Remo agent stabs her in the chest to finish her off once and for all. Of course, others before have thought that they had killed Natasha. Don't miss all of the action as super sexy Danica Thrall is taken down by Claire's evil character. This is fem on fem action at its best!
Check out the Trailer!


Starring EMMA G.
Wondra takes on several thugs of the Seventh Sanctum, defeating them all! Then, they attack her in her civilian guise, all in an attempt to once again turn Wondra into their pawn, hoping that she'll be the most vulnerable in this form. They enlist the assassin known as DeadKill to battle her and take her down. Wondra tries to change back to her Amazonian form, but Deadkill interrupts the transformation. She is then chloroformed into unconsciousness This is Episode 12 of Sultry Superheroines, Season 1. It is also the episode that kicks off the Season 2 storyline, "The Dark Wondra Saga", where all of the heroines are trying to locate the missing Wondra!
Check out the Trailer!


Catwarrior was captured by Master Mace in Episode 2. What happened after her capture? This episode will tell the tale. It will also pit her against a woman who matches her move for move, who is known as Jackl. This is Episode 19 of Sultry Superheroines, Season 1.
Check out the Trailer!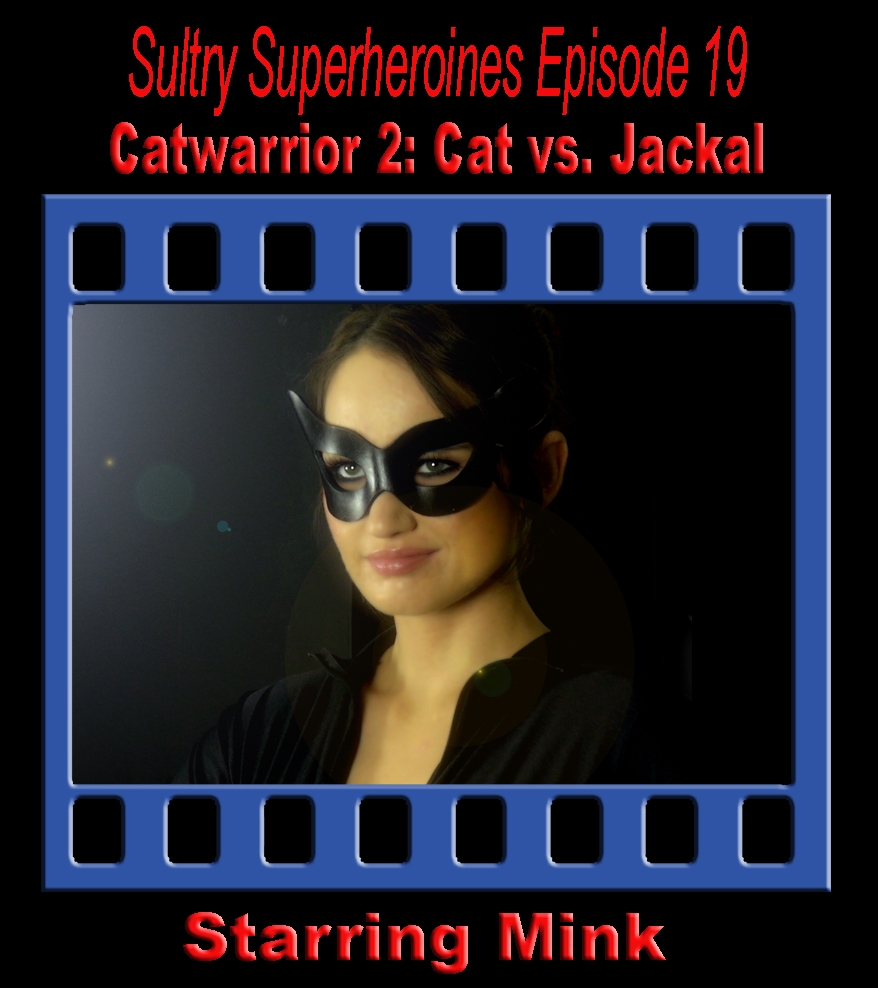 Starring Destiny!
Wondra, the idol of millions, is M.I.A.. One woman takes on the mission of finding the missing heroine... the self-appointed Sidekick who becomes known as Wonderkick! Can this apparently inexperienced vigilante take on the powers that have apparently defeated the powerful demi-goddess known as Wondra? Join Wonderkick in her first adventure, and see if her bold attitude and training is enough to defeat a Gatekeeper of the Seventh Sanctum! She is not the only Sidekick, or crazed fan, who has taken on the mantle of heroine in Wondra's absence, but she is perhaps the best qualified to make a difference! Wonderkick is played by beautiful Destiny, who fills out the costume very nicely! In this episode, Wondra is missing, so Wonderkick tries to pick up her trail, but runs into a mysterious Gate Keeper of the Seventh Sanctum, who she takes on and shows that she is a very talented fighter. Unfortunately, the tables are soon turned and she is on the defensive. He delivers a back of the neck chop with KO, but when she recovers, there's a kick ass fight. Her opponent manually chokes her, delivers a lot of face hits, and a low blow. Wonderkick gets her head slammed on a table top twice and is elbowed in the face, kicked in the belly, kneed in the belly, takes 8 belly punches,  and a throat chop. It is a real beatdown. Finally, she is scooped up into a bear hug, her back is cracked, then she is dropped onto his knee in a classic backbreaker. Wonderkick is finally chloroformed into unconsciousness and carried away in an over-the-shoulder carry. This Peril video is 10 minutes running time (without counting the closing credits). This is Episode 14 of Sultry Superheroines, Season 1.
Check out the Trailer!


Available for only $18.50
Click on the Product Box to be taken to our store so that you can buy this video